Volkswagen Golf GTI Clubsport breaks speed record
15/06/2016 11:34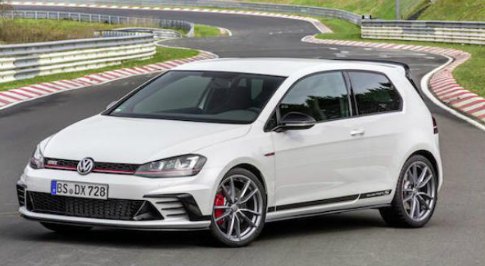 Volkswagen Golf GTI Clubsport breaks speed record
The Volkswagen Golf GTI Clubsport has set the fastest time ever for a front wheel car at Nurburgring, with a time of 7 minutes, 49 seconds and 21 milliseconds.
If not for the aggressive front bumper and rear wing, you might not ever realise that the car that set Nurburgring ablaze was anything other than a standard Golf, however pop open the bonnet and you'd have found a 306bhp motor. The car used the incredibly pacey Clubsport chassis, with slightly modified suspension, semi-slick, road legal tyres, and was made 30kg lighter by the removal of non-essential equipment such as the rear seats. The body kit was also modified to increase downforce.
The Clubsport S has a 0-62mph of 5.8 seconds, a top speed of 165mph, and a fuel economy of 38.1mpg. Only 400 Clubsport S Golfs are to be produced and 150 of this will be sold in the UK, for a price expected to be somewhere around £35,000.