Volkswagen e-up! electric is the best green city car
19/11/2014 15:25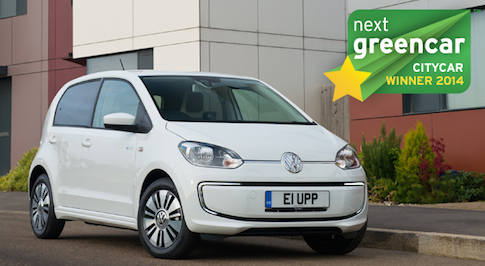 Volkswagen e-up! electric is the best green city car
The Volkswagen e-up! Electric has run away with the City Car prize at the Next Green Car Awards.
Next Green Car today announces the winners of the Next Green Car Awards 2014, highlighting this year's best green cars to come onto the market.
The judges said: "With the e-up!, Volkswagen has produced a high quality, practical and affordable electric city car which is perfect for zero-emission urban driving where space is a premium."
Sally-Anne Norris, Product Manager for the Volkswagen e-up! said: "We're delighted to have won this award from Next Green Car. The e-up! combines all the features which have made the standard up! so popular - compact body with impressive interior space and big car levels of comfort and refinement - with an all-electric drive-train.
"A range of up to 99 miles and a choice of charging options mean its a great choice for commuters. The e-up! was our first all-electric car and we hope its success in these awards will be repeated by our e-Golf as well as the Golf and Passat GTE PHEVs when they are available next year."
Next Green Car has made awards across eleven vehicle categories including two new categories Sports Utility Vehicles (SUV) and Light Commercial Vans (LCV) as well as the 'Next Generation' Award, which includes new technology models close to market launch.
The eleven winners are selected from shortlists of thirty-six of the UK's greenest new cars of 2014, all selected for their environmental Next Green Car Rating (NGC Rating), level of innovation, value, drive experience and design. With CO2 of 0g/km the small VW received a NGC rating of 21.
by: Becca Chaplin
All News