Vertu Volkswagen Mansfield Bodyshop manager rewarded
16/03/2018 09:32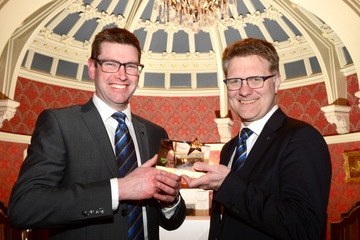 Vertu Volkswagen Mansfield Bodyshop manager rewarded
A manager at Vertu Volkswagen Mansfield is being acknowledged for his hard work after receiving recognition at a national awards ceremony.
Robin Harrison was named 'Bodyshop Manager of the Year' at Vertu Motors CEO Awards dinner, hosted by the Group's CEO, Robert Forrester, at Kilworth House in Leicestershire.
The CEO Awards is an opportunity for Robert to recognise and reward the achievements of colleagues working across the Group, including administrative support and team members from the Group's 120 dealerships.
Robert Forrester said: "Robin is a worthy winner of this award, as he is constantly looking at ways to attract new business and generate opportunities. His positive attitude and approach have seen him take this department back into profitability this year.
"It is a great turn-around and is a direct result of Robin's commitment, hard work and attention to detail. This is the stand-out performance in our bodyshop network in 2017, and Robin fully deserves this recognition for having delivered a great result."
Robin added: "I am shocked but thrilled to have been named Vertu Motors' 'Bodyshop Controller of the Year'. There are a lot of people that have contributed to my successful year, and I am thankful to work for a company that rewards the hard work and dedication of its colleagues."
All News