Look no further than Volkswagen for your new car
19/06/2015 14:04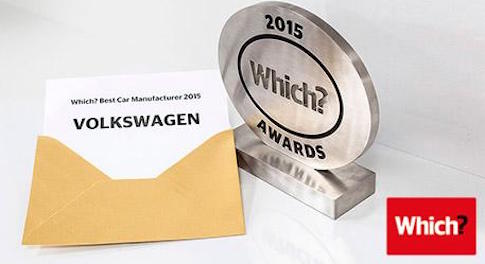 Look no further than Volkswagen for your new car
Volkswagen has been named 'Best Car Manufacturer' at the prestigious Which? Awards 2015. The trophy was presented yesterday in London, at a ceremony which recognised and celebrated businesses that deliver excellent products and services across a wide range of sectors from cars to retailers and banks to home appliances. Which? is the largest independent consumer organisation in Europe.
Volkswagen was shortlisted for the award earlier this year, and emerged as the 'stand-out choice' according to Which? in the final judging. The organisation commented: 'All the cars from Volkswagen tested over the year are class-leaders. We have tested three new cars over the past year and all were Best Buys.' Which? continued: 'Volkswagen is a popular brand with owners, scoring well for customer satisfaction in our annual survey.'
Peter Vicary-Smith, Which? Group Chief Executive, added: "A Which? Award is our way of recognising the businesses that share our ideals and offer products and services that improve their customers' lives. Good businesses can truly be consumer champions. By treating customers fairly, businesses will be rewarded for their efforts with more confident consumers helping to drive growth in the economy."
Volkswagen offers one of the widest ranges of cars in the UK, from the up! city car through the ever-popular Polo, Golf and Passat line-ups to luxury 4x4s, as well as cabriolets, coupes, MPVs and SUVs.
Alex Smith, Director of Volkswagen UK, said: "We are fortunate at Volkswagen to have a great range of products which win a large number of awards, but this stands out for me as one of the best. A Which? Award is a genuine seal of approval from an independent organisation that proves we're selling the right cars in the right way. All the new products and services we offer are designed with the consumer in mind and we'll continue to innovate to make our customers' lives easier and better."
by: Becca Chaplin
All News