Hereford supports growing business with new fleet delivery
03/01/2018 15:56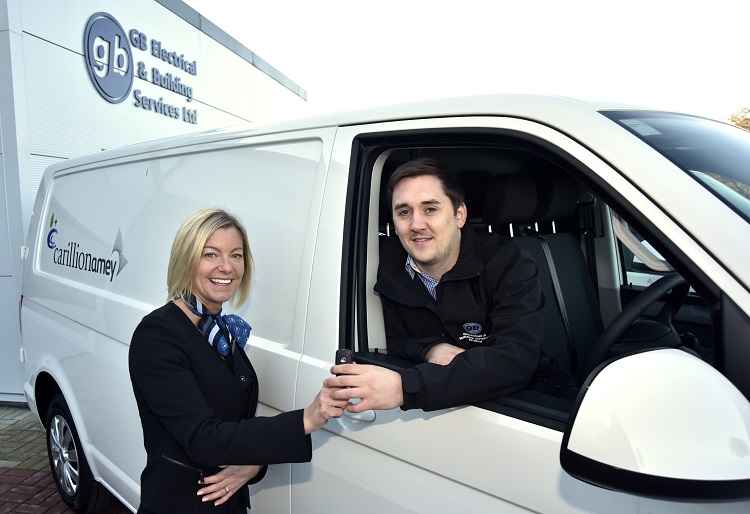 Hereford supports growing business with new fleet delivery
Vertu Volkswagen is helping a Hereford-based business to grow with a delivery of 42 new vans within three months.
GB Electrical currently employs 170 staff and maintains around 10,000 service family homes for its client CarillionAmey, it also installs electrical vehicle charging points across the UK.
Due to the high demand for its services, the company needed to add five more vehicles to its fleet, in addition to a recent order of 38 Crafter, Caddy and Transporter vans from Vertu Volkswagen, to support its contract with CarillionAmey.
The company also undertakes general property maintenance in addition to its electrical installations and repair works in both domestic and commercial properties.
Chris Greenall, Business Support Manager at GB Electrical said: "When running a business it's important to choose options that are cost-effective without compromising on quality.
"The vans we received from Vertu Volkswagen represent the company perfectly, and that, along with the excellent customer service and aftersales offering, is why we have chosen this dealership to supply us with another set of vehicles."
Clare Mallender, Business Development Manager at Vertu Volkswagen and Hereford Audi said: "GB Electrical is an example of a business doing extremely well, and its growth is largely due to the streamlined operation and the quality of customer service it has in place.
"These ideals are synonymous with Vertu Volkswagen, so the company can feel confident that its fleet also represents it in a professional manner."
All News