Details Revealed for Volkswagen Tiguan
08/04/2016 10:20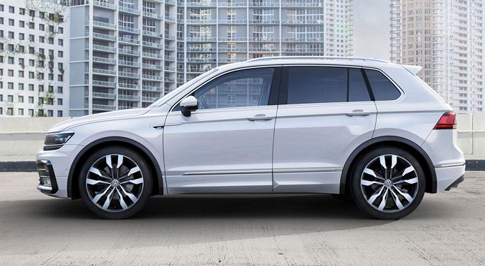 Details Revealed for Volkswagen Tiguan
Prices and release dates for Volkswagen's new Tiguan SUV have been released, as the car has been made available for pre order.
The SUV will be available in five different trims when it goes on sale, each with one of two engines, a petrol and a diesel. The price will start at £25,530, with the higher end of the spectrum peaking at £35,095. In the second half of 2016, the Tiguan is expected to gain smaller engine options for both its petrol and diesel variants, as well as a plug-in hybrid model.
In terms of its design, the Tiguan's dimensions have been given an overhaul, and it is now longer, lower and larger. The exterior design is shaped by both the Golf and the Passat, and the chrome grille, bumper and gently lined bonnet are aimed squarely at creating a car that will appeal to families. The car's interiors are neat and intelligent, with a spacious seating arrangement thanks to the lengthening of the car. The Tiguan R-Line trim will bring larger wheels and twin exhaust pipes to the table.
Deliveries of pre ordered vehicles are expected to begin this coming summer.